How can Google Alerts help your marketing?
How do you keep track of what people are saying about you on the web? Other than combing the web hour after hour, I have found Google Alerts to be one of the best things since, toast, (not so sure it is better than sliced bread, but, you get my point right?)
You can set up an Alert for just about anything:
Press release – Include the words in the title to see where it was published.
Your name – enclose it in quotes
Your company name –
Your product or service
Key words that apply to your product or service
Your competition
Job Search – Read this article from Careerealism about How To Use Google Alerts for your search.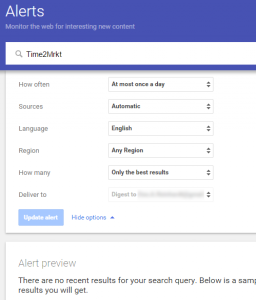 To create an alert, it is as simple as typing Google Alerts into your browser window. Or you can go to http://google.com/alerts When you type in the word for which you want to create an alert, suggested articles and links will appear. You can establish criteria for your alert like:
Frequency – can be as it happens, once a day, or once a week.
Sources – automatic (all of these), news, blogs, web, video, books, discussion, or finance.
Language – practically anyone you can think of
Region – any, or a specific county. It doesn't allow more specific than that.
How many – only the best results or all of the results, and
Where to deliver the alert – I would suggest a gmail address.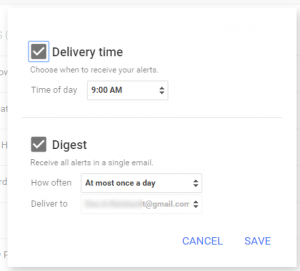 Once you pick what you want to track, you can establish how frequently you get the updates. If you would like to use the information in the Google Alerts to help you with content for your social posts, set your delivery time for early in the day. If you choose the digest option, all of your alerts will come to you in one email. I have alerts set for some of my clients, so I personally prefer to have my alerts come as individual emails. Hopefully, you have picked great keywords to help you find information that you can share.
Use Google Alerts to help you stay up to date on new information in your industry and to help you fill out your content marketing.