Word Cloud and Keywords
We have figured out by now that keywords are the way to find things on the internet.  Use a web browser and "Search" for what you need and that browser will render results based upon:
Ads that people pay for to increase their visibility. They use a process called pay-per-click or PPC to drive traffic to their website. Most businesses opt for this paid search system, as it means they only have to pay for their ad every time someone clicks on it.
Organic results based upon how the website has set-up their back-end data, in-bound links and how people have searched in the past.
A great article that I just read includes 60 tools to help you find keywords for your website. If you have a website, I encourage you to check out the list and try a few of the tools.
Using a PPC approach could become costly.  Unless you can track your lead source, you may be spending money without results.
Organic results can be improved by social media engagement.  We can talk more about this option if you would like to improve your presence.
Both of these opportunities are fine for people with business website.  What I would like to discuss now is how do you find the keywords to represent you, especially if you are in job search mode. When I teach LinkedIn sessions either in a class or one-on-one, I recommend using keywords in your personal profile.
My suggestion would be to use a word cloud tool. A word cloud as shown to the right is a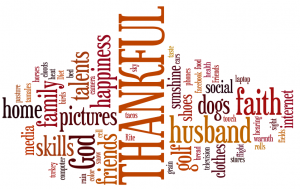 grouping of words into a shape or a random shape that highlight the most important words. I used this particular one in an article on Thankfulness I wrote around Thanksgiving a few years ago. This tool could be very useful for a job seeker to find the keywords that they need to include in their resume or in their LinkedIn profile.  Take a look at this article to see a few of the options that you can use to create a word cloud. I have used a couple of them, but I think Wordle.net might be the most versatile.
Watch the video below to see how you can combine several job descriptions into one word cloud to find the keywords you should be using in your resume and on your LinkedIn profile.