Do you have a LinkedIn Background image?
My favorite social media tool recently changed the way the LinkedIn background image appears on your public profile. I mean recently. I taught a class on May 7 and it looks different today!!
It is a good idea to include an image on your background. If you sell products or services, make it a marketing type image.  If you are in job search mode, try to find an image that reflects what it is that you do. When I teach LinkedIn workshops, I suggest to attendees that they create a word cloud to find / represent their key words. That word cloud image might make the perfect LinkedIn background image for your profile.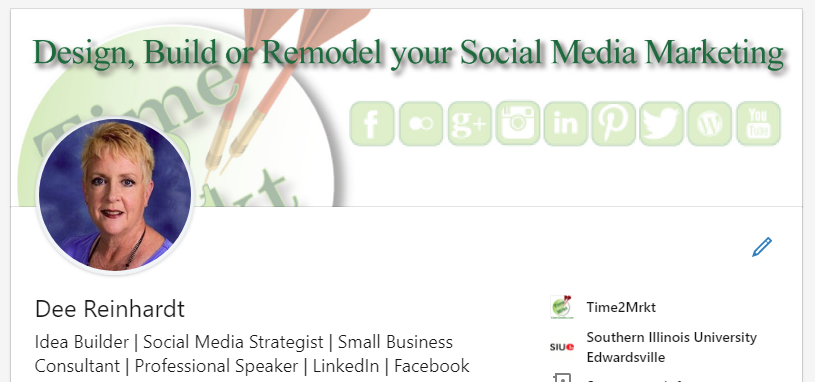 The image size they suggest is 1584 pixels by 396 pixels. If you have an image created for a YouTube or Google background, the image is about the right size. As you can see from the image, your profile picture covers the lower left corner of the image, so take that into consideration when you are designing something new.
I write and teach about LinkedIn. In my opinion it is the best tool to network and connect for business. Using this image and a professional looking head shot will boost your views. You need to also pay attention to the keywords you use in your profile and where. Interested in an upcoming workshop for job seekers? Check this site – Harper College Eventbrite
If you would like to read other articles about LinkedIn, check out these:
I am happy to work with you one-on-one to make your profile show up higher in search results organically. Consider this when searching for a new position or promoting your products and services.
While it is just something nice to have, you can make your LinkedIn background image work to your advantage. Contact me if you need more assistance.