What three things can you do to retain employees?
Recently, I heard an interview on WGN radio show by Steve Grzanich of the Opening Bell discuss three things to do to retain employees with Adam Robinson of Hireology.
Those three things are: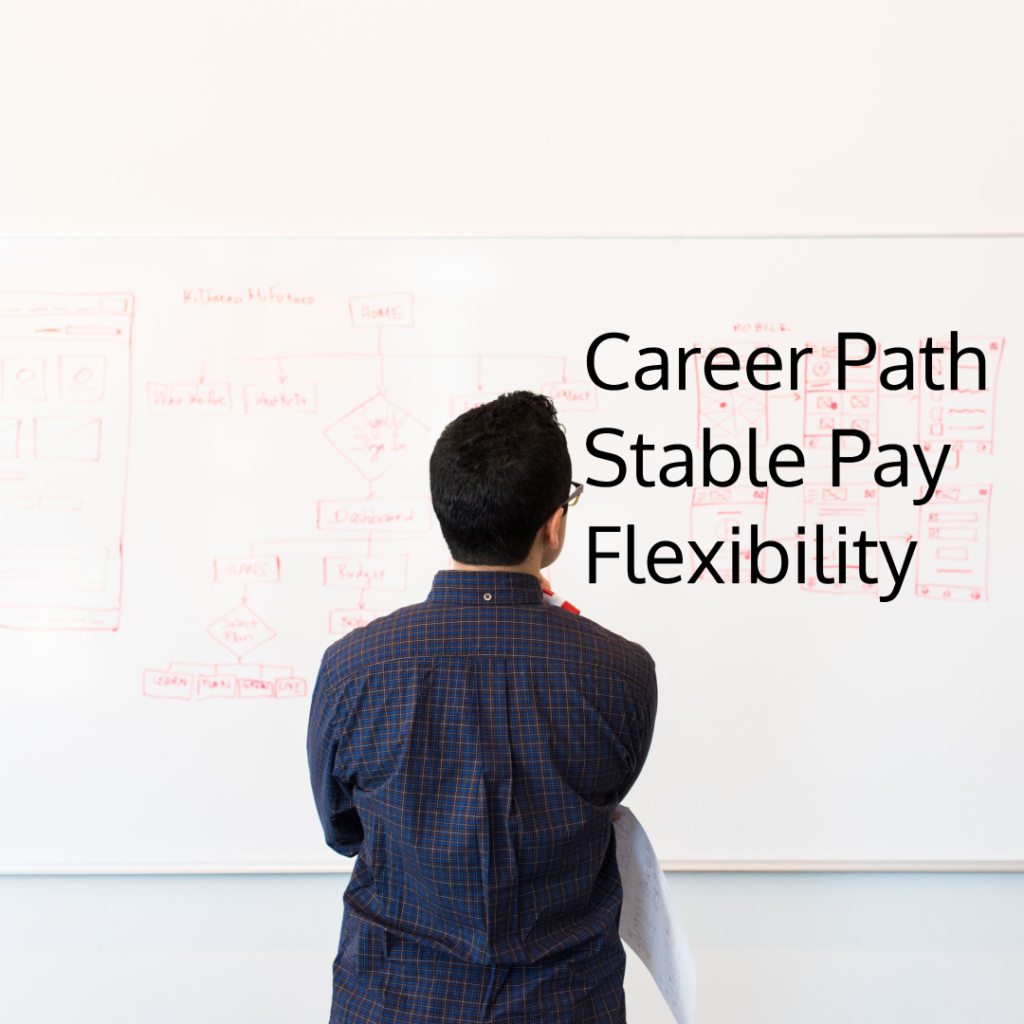 Career Path
Stable Pay
Flexibility
Let me share my interpretation and viewpoint from a workforce development aspect. I am a solopreneur, but I have a history with workforce development from the employer and job seeker aspects.
Career Path –
Many people begin a job without knowing how they can progress up a career ladder. For example, you might get training as a Certified Nurse Assistant with the end goal of becoming a Physician Assistant.
What steps can the job help you achieve?
Will the employer pay for additional training?
Is there internal training that can help you advance up the career ladder?
Will the employer allow attendance at external workshops and conferences to gain or maintain additional educational units?
This is a very competitive job market for those who are still looking for work. What do you tell prospective employees in the interview process about training retention plans?
Stable Pay –
In my view, stable pay means that if you hire an employee you will maintain a consistent rate of pay when possible. For example, if hired as a part-time person at 20 hours a week, the hours don't fluctuate down to 5 for several weeks in a row. If a person is hired as a seasonal employee, help that person understand what the hours/pay expectation should be. If someone is hired who becomes used to 12 hours of overtime a week and suddenly, without notice, that is cut because of x, y or z, it is unfair. Communication would be key in both of these examples. Perhaps a contract was not renewed and hours for everyone will be cut as of xx date. Another aspect to stable pay could be the anticipation of annual reviews with cost of living increases or performance raises. A new employee should be made aware of what opportunities exist.
Flexibility –
For me personally, this is one of the reasons why I love working for myself. If I need to go to a networking event, attend a doctors appointment, run an emergency errand for my husband's construction business or almost any other reason, I have the flexibility to work earlier or later in the day or make up work I have to do on a Saturday morning. More and more businesses understand the work/life balance concept. Sometimes the declawed cat might slip out the door and boom, there goes 90 minutes of time you owe your employer. Being or allowing flexibility (as long as it is not abused) is one of the things that employees will expect.