B2B vs B2C – Blog
In our first article, we talked about why you would want to use different platforms for your business. This article will talk about the difference of B2B vs B2C – Blogging.
Blog stands for the weblog. One of the most important things that you can do is have your blog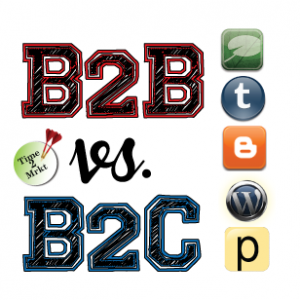 attached to you website.  Having the blog physically on your website helps keep readers on your business site. If you cannot, for some reason, have your blog on your site, you should at least create content that will allow you to link pages from your site within your blog articles. One of the major platforms that allows you to incorporate a blog into your static website is WordPress. Some of the other sites in the image to the right are sites that you can host a blog, but it is not ON your website.
One of the best things about a blog is that it allows you to build thought leadership and brand awareness. It can also help you advocate for a cause.
B2B – Use a blog to provide information on your products or services. Here is where the thought leadership comes into play. Your blog could include how-to's, client testimonials, you opinion on other thought leaders articles. Offer best practices or case studies.
B2C – The blog becomes a repository for successes, interesting ways to use your product, create a contest or share results. Do you have a project coming up that you can share the step-by-step process?
In general, I think the blog is more advantageous to a B2B business but everyone can benefit in some degree.
Why | Blogs | LinkedIn | Facebook | Twitter | Video
Google | Image | Pinterest | Location Sites | E-news