B2B vs B2C – Pinterest
Next in our conversation about what are the best platforms for B2B vs B2C – Pinterest.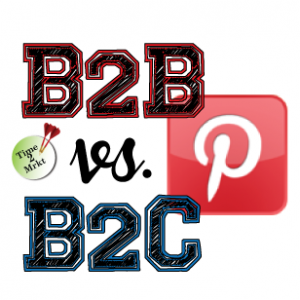 Now many of you may think that this is just an image site like the ones that we discussed in the last article on images, but I feel like Pinterest requires and /or deserves it's own article.
When I was young, I had a cork board in my bedroom that was painted an obnoxious loud blue color that I would never use today! I pinned up buttons that I gathered and pictures of things that I wanted or liked. This today is called Pinterest.
Pinterest is classified as a visual bookmarking site. Early in it's infancy (2010) users had to be invited to participate. Over time they allowed brands to develop a brand identity instead of having to create a "personal" profile for your business. Many equate Pinterest to women as fantasy football is to men. 21% of Pinterest users purchased a product after seeing a picture on Pinterest. So how can this be used for your business?
B2B
This will depend upon the product that you sell whether or not it product placement is beneficial for you on Pinterest. What does work phenomenally well on Pinterest are infographics. Create one that represents your industry statistics, processes that you have developed, or other industry related information. The visual aspect will help readers more easily digest the content. Link images from your product webpages. This will take viewers back to your website to get all of the details. Pin images that you have included in blog articles to drive viewers back to your thought leadership articles.
B2C
Pinterest is especially useful for companies who sell products to women, but can be just as useful for products geared towards men, since most women do the "shopping". Include a price in the description and pin the image to your board from your website or sales site and they can click your image to be able to buy the item on your website. The platform is great for crafters, builders, designers, vendors in the wedding industry, food establishments and clothing outlets. Because of the "board" concept your pins can reflect your company's work as well as ideas you are gathering.
In my humble opinion, there is a slight edge here for the B2C business.
Why | Blogs | LinkedIn | Facebook | Twitter | Video
Google | Image | Pinterest | Location Sites | E-news