Do you use a CRM for your business?
If you use a CRM – Customer Relationship Management tool for your business and contacts, that is great! Hopefully you are making use of the automated items that you can set-up to keep in front of your potential and exiting clients.
If not, you might want to investigate the CRM functionality that is happening in LinkedIn. Go to your Connections item on your LinkedIn Menu bar.

If you hover you will see other options, but just click on the word connections. It should take you to a screen that looks like this: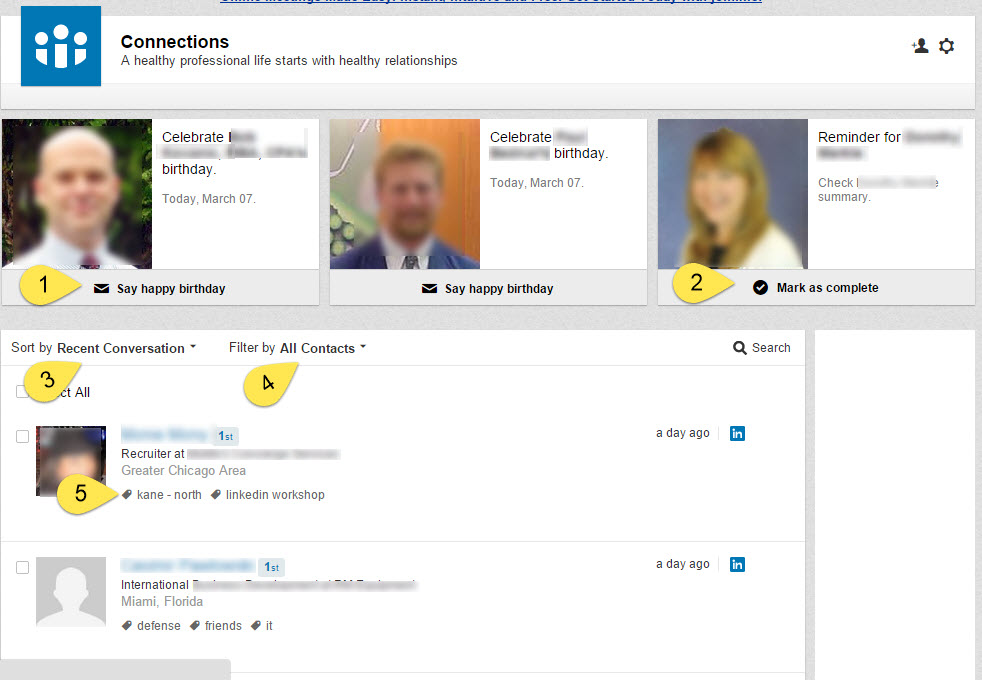 You can send a birthday message, congratulate someone on a work anniversary or a new position, and …
Review the reminders that you set for yourself.
Sort people by recent conversation, last name, first name, or new connections.
Filter your connections by company, location, industry, and my favorite by Tag.
You can tag people from this page.
What I like a bit better, is to go to the person's profile page and get into the nitty gritty of what a CRM is really all about.

With this feature, look for the Star underneath the persons picture or the word Relationship. Once you click on it, you can do the following:
Note whatever you want to note about the person.
Add a reminder – 1 day, 1 week, or recurring and more. The reminder function puts reminder into your CRM portion of your connections page. (See below)
Add in how you met and include the people that introduced you.
My favorite – Tag your connections. Those tags appear next to the contact information. You can tag a person with any tag you like.
With all of these features, you are the only person that will see any of this information. That is the beauty of this feature.
Now if you don't know why it is important to use these tools, let address a marketing tactic. When I teach, I tell the class room an old marketing tip – the more someone sees your name, the more likely they are to remember it.  When you see the following items, take action!

Take a few minutes to wish people Happy Birthday, Congratulations, or review the reminder that you received from your CRM function!