Essential Skills, workplace skills, soft skills, people skills are all names for the skills we continue to use no matter the technology.
This morning at a Small Business Advocacy Council meeting of the Fox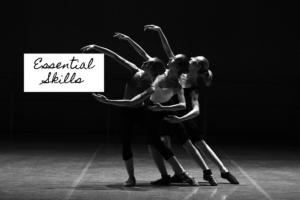 Valley Chapter, I was leading a discussion about what has changed in your career pathway and what has remained the same. In almost everyone's discussion it was one of the essential skills that employees need to demonstrate in the workplace that remained the same.
Everyone mentioned that technology was a big change – computing power in a phone, being able to get an insurance quote in 10 seconds vs. what used to take hours to compile. Faster, smaller, more precise, flexibility were all mentioned in the conversation. The few things that remained were things like customer service, standing behind your product, the know – like – trust factor of sales, and building relationships. These are such important elements that cannot be short-changed. If someone does not have these skills, they are more difficult to teach than the technical skills it takes to run a machine or an accounting program. In the picture, you can teach a dancer the steps, but can you teach them the value and responsibility of being a team player, or being proactive and ethical.
If you or your business need assistance with social media marketing, I am your girl. If you or your employees need help with essential skills (workplace skills or soft skills) use a resource of one of my clients – Illinois workNet. Check this guide for more information that can help you. If you are wanting to improve your computer literacy or train a member of staff to deal with your IT services, I would recommend a visit to itsm.zone. They offer introductory and advanced courses, catering for all levels of computer literacy an individual may have.
A small commercial about the SBAC IL – this group advocates for  small business at the local, state and federal level. They are a non-partisan group founded by a Greater Chicago Area attorney. If you are interested in supporting local small business, consider joining us at an upcoming meeting. You can find out more information by clicking the link in the first paragraph.
Please follow and like us: