Message Center in LinkedIn made some big changes!
As I was teaching class on Monday for some job seekers at the Illinois workNet Center in Arlington Heights for Harper College, one of the students said he couldn't find the option I was showing on the screen. I took a look over his shoulder and sure enough LinkedIn has done some updates to the message center.
Here are the highlights –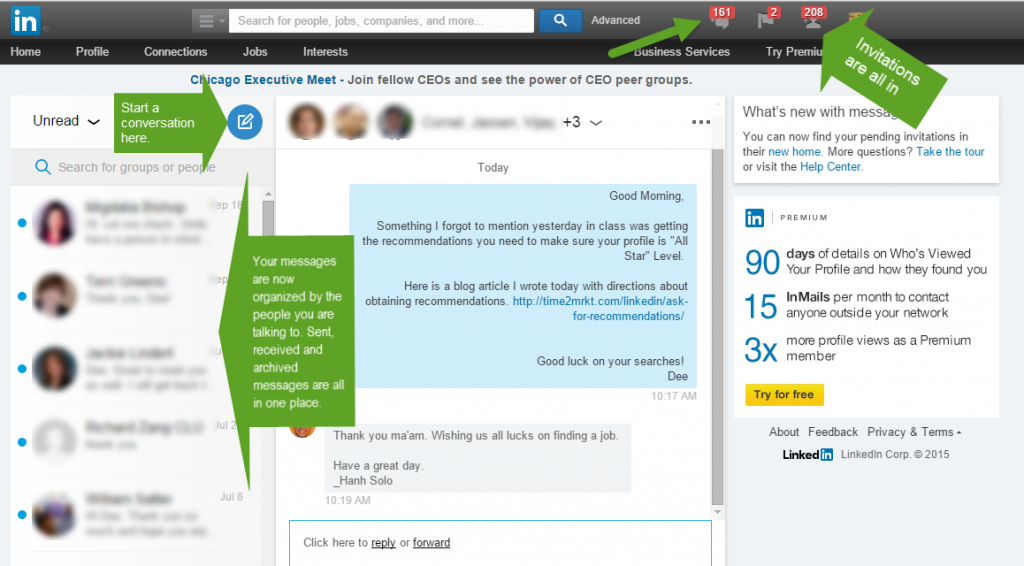 Messages appear by person – the whole string of the conversation is in one spot, instead of numerous messages for one back and forth conversation.
All invitations are in the invitation tab. What this has done is taken away the ability to "reply don't accept yet". This feature was very useful for me and if there isn't an alternative offered, it will be a great loss especially when people do not personalize their invitations.
You can start a new conversation with someone with the pencil and pad icon.
The other thing they don't point out is if you send a group message, it shows the image at the top of the message string of who was included and then who responds, very similarly to the way a text message stream looks.
What do you like or dislike about the changes?