LinkedIn rolled out a new set of icons to allow more than just a "Like, Comment and Share"
I saw the article the other day and was hoping that I would be an early recipient of this new feature to allow you to express more than just a "Like" on someone's post in LinkedIn. LinkedIn introduces Reactions!
It happened today!!! I just went in to check my feed and the new icons were there for me to use. So I quick grabbed a screen shot and came to my blog to write an article and share it with all of you!
Check your LinkedIn profile – the news feed. Find a post and hover over the "Like".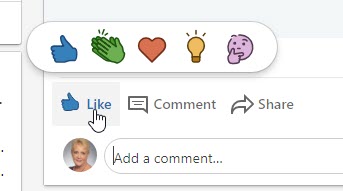 If you were one of the lucky folks that have it rolled out to you, then you should see this>>>>>>>>>>>>>>>
Obviously the thumbs up is for the traditional Like option.
Clapping hands is to celebrate what someone is saying or the achievement they posted.
Heart is if you Love something that someone says.
Lightbulb is to tell someone that their comment was insightful. – I would try to engage someone that uses this option to see if they might be able to assist you in your endeavors in any way.
Hand to chin face is to reflect curiosity. – If someone uses this option, I would try to engage them to see if they need more insight or use of your product or services.
Here is the link to the original article making the announcement that I found.
Here is the link to the process of making the design. I like the post-it Kaizen board, but I have an even better tool for that! Check out Trello.
I am excited to share this new update in my LinkedIn workshops! Watch for it on your profile soon.