Time2Mrkt recently earned Woman Business Enterprise status from the State of Illinois.
After working with one of my clients for a number of years, the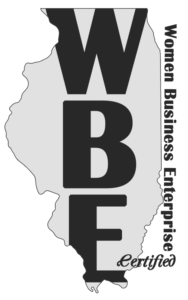 procurement process changed. They now require all of their contractors to be on the Illinois Procurement Guide as registered business.
Since I wanted to keep my contract viable with them, I went through the process of completing the application. This was an involved process! It took a couple of weeks from start to finish. I was totally confused but a webinar I attended about completing the application gave me enough information to assuage my trepidation with the applicaiton.
Thankfully, I save emails and documents, so gathering the information they needed was time-consuming but relatively painless. I had to  contact my attorney for copies of incorporation documentation, my CPA for some tax documentation, and get a couple of documents notarized. I happen to be a notary, but I am unable to notarize my own documents.
After everything was uploaded, and all of the questions responded to, I participated in a phone interview. They wanted tax information about our construction company and I asked why. The response made me laugh out loud. Apparently, all business in which you hold a shareholder stake have to be tracked because the total income cannot exceed $75 million. If I was making $75 million in either of our businesses…
All in all, this is a great opportunity that may open up the clients with whom I might do business. Since I have the Woman Business Enterprise certification, I am able to potentially meet quotas for business with government contracts who have to track those sort of things.  It also allows me to complete applications in other states and agencies in the state based on the documents that I have already submitted for the current certification.
If I had know that the state process was this easy, I might not have waited so long to complete it. They also have veteran owned business certification, along with minority and minority woman categories. Something to think about when you are looking for a new service vendor.
FYI – they don't have a logo, so I created one of my own. I think I will submit it to someone to see if they would like to use. Give me your feedback on the design.
Please follow and like us: