Sharing bad examples of customer service is the norm.
I want to break that mold. I want to share an example of how a company did customer service correctly!
My husband wasn't feeling well and didn't want the left-overs I was going to prepare for dinner. He suggested pizza. Since I am gluten-free, we have limited choices of places that can serve both regular for him and gluten-free for me. I called around a couple of places looking for some new options, but we finally settled on Lou Malnati's.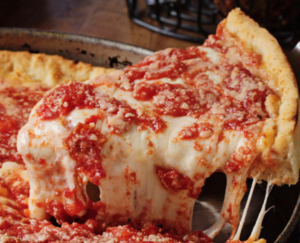 I went to the website and ordered through the on-line system and picked a time to pick-up. I double checked the order because of past experiences.
At the appointed time, I made my way to the Elgin carry-out location. I only had to wait about 2 minutes. I saw my small gluten-free box and a larger box for the deep dish. I didn't check inside either box because Lou's is always very good about getting things right. I should have checked! Note to self: always check – people make mistakes.
I got home about 10 minutes later, opened the box and discovered there was only one ingredient correct from the order. I called the store right away. I had printed out the order that I had placed. Double checked that to be sure I hadn't missed checking an appropriate box.
They asked me if I wanted a rush order, I said that would be too late and they immediately offered up a coupon for the next time we ordered. On top of that they credited my charge card for the wrong pizza that we received.
The best part was I didn't have to ask. I did request some clarification because, I thought I was just getting a coupon for a free pizza, but then they said they will credit my card AND the coupon.
I just wanted to give props to good customer services and a company that empowers its employees to make things right for the customers.
Instead of Lou to go, it is way to go Lou!