I would like to direct you to this great article about Google Alerts. I have been using Google Alerts for myself, my company, and my clients, including key word related searches for a very long time.
Years ago, there were things like clipping services that would be paid to read magazines, newspapers and other print media to find when you or your business, or even your competitors were mentioned. Since the onset of the internet those services still exist, but things like Google Alerts gives you the ability to follow and monitor some of those things on your own.
It is really easy to set up a Google Alert –
Go to http://www.google.com/alerts.  You will see a screen that looks like this: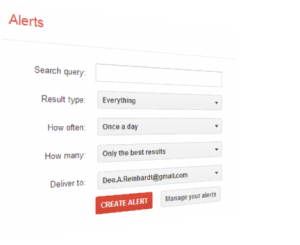 Enter your keyword, name or query that can include:
"exact search query"
-excude items
link:somedomainname.xyz
site:somedomainname.xyz
related:sitesthatarelikeyours
location:yourcity,state
This can really make the information that you gather useful and time sensitive.  I get alerts daily on some things, and infrequently on others.  It depends on how often the search term you enter falls into the parameters that you established.
For what have you used Google Alerts? Any success?  Share here.