Want to know more about Google Drive?
Watch the video below to find out more about using Google Drive to enable better collaboration on documents. Or you can follow the tutorial steps listed.
It works best with a gmail email address and in Google Chrome, but if you have an enterprise email address in the Google platform, it will work also. So the very most basic step is to log into your gmail account. Then follow these steps: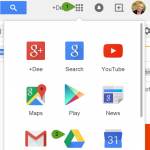 Hover over the 9 little squares.
Find the Drive triangle and click.
Drive will open to a new browser window. Navigate to that.
On the left side, you will see a menu of items that includes your documents, items that have been shared with you by others, photos, recent documents, starred (favorites) and trash. Use these area and create folders within as you would with the document manager in your version of Windows.
Once you have your selection open, just pick the document upon which you want to work.
The document will open in a new tab. Browse to that tab.
There is a WYSIWYG editor that you can use. Some of the items are not as robust as the original "Office" software in which the original document may have been created, but you have almost every capability. If the document is created in Drive, there is no differentiation.
Multiple people can be in the document at one time. You would see a box with an initial in it of who the other people are. This is great for collaboration.
Check comments or share the document from the next area.
When sharing a document, make sure you know the google email that the person uses to access their drive and/or calendar. OR you can share a link with them to access the file.
You can also allow them to be able to edit, make comments only, or just view.
Watch the video