Are you using a content calendar?
I recently read the article linked below about the best content calendars for 2023.
I really like the concept especially for blogs and complex social media campaigns that require a lead up to an event and a follow-up afterward.  The article suggested several options both paid and unpaid. One of the easiest might be to use a Google Sheet or a Microsoft Excel document if you are using Sharepoint. Blogging requires a bit more time than social media posts. There is thought composition, image assignment, and whether or not your article is going to be a series or not. Some people are prolific writers, but are haphazard in their flow. A content calendar can help the organization.
Planning in advance helps you overcome the feeling of stress when you need to post something but don't have anything prepared. An 8th grade math teacher taught me the 9 P's "Prior Proper Planning Prevents Poor Performance at Peak Panic Periods." Let's help you not panic!
Mentioned in the article is one that cost money: Loomly,
And others that are free: CoSchedule, Airtable, Hubspot (guide only), Trello (free template)
Our company uses Hootsuite to help create and schedule posts for our clients. One of the things that Hootsuite offers is a Planner with suggested times that you might want to post. This is very useful for social media posts.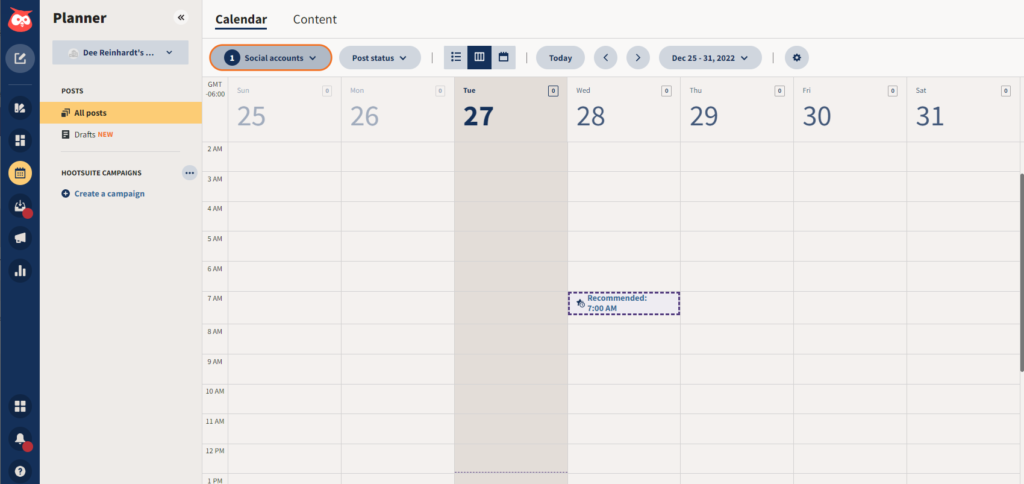 We have also used Google sheets by the month to carry out a campaign.
Let us know if we can assist you with your social media strategy! Connect
Source: click here