What do we know about LinkedIn Search Algorithms?
All of the social media platforms are typically secretive about their search algorithms. Here is a short perspective of what we do know: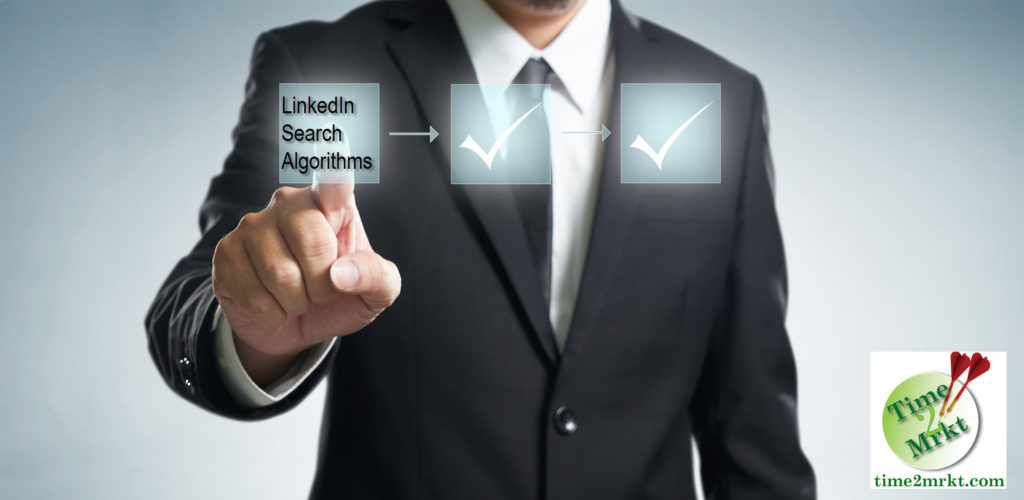 Keywords –
Everyone speaks about keywords being the number one search item for ANY platform social or browser. So how do you find your keywords?
One suggestion I make is to create a word cloud. Read one of my previous articles about how to find your keywords with a word cloud here.
From LinkedIn Help about keywords  – (Avoid these things.)
The order of a search result is determined in part by the profile, activity, and connections of the person who is searching.

Our goal is to optimize your search results. Before we return results, we consider the searcher's activity on LinkedIn, the profiles returned by the query, and other members who have run similar searches in determining the sort order.

More keywords aren't always better –  If you integrate an extended list of keywords into your profile, it's likely that your profile will be filtered out by our spam detection algorithms, which will negatively impact your appearance in search results.
Keywords need to appear in your headline and hopefully in your job title. The job titles may have a slightly higher impact on the search result. Go with the more acceptable search term than what you may have actually been titled.*
Add keywords to your Summary, inside of your work experience, and ensure your are endorsed for them in your skills and experience.
Advanced Search Strings
People who know how to use the Boolean search method are quite successful at finding exactly what they want. This article by Paul Cameron of Speed Up my job Search .com gives a great example.
Here is a bonus article I found from 2011 with some valid premises. The thought behind the keywords and adding contract work seems like a way to get keywords in. The alternative to that now would be to add each contract under the company name as a change in job for that company.
Connections
Connect to as many people as you can to broaden your network. So many people think that you should only connect with people you have met in person, but that defeats the purpose of the breadth of a network like LinkedIn. Others say they don't want to have their customers as connections because the competition could steal them. If you connect with everyone you know (and meet) and some of those you don't already know,
The more connections you have, the more "detective" work you can do. My adage is that it is not about who you know, but who they know. That 2nd degree connection might be just the person you need for your next contract or job. Sometimes recruiters limit the search to 2nd degree, or a business owner may do the same when searching for a contractor.
Activity
From my research in preparing for this article, I see that the more active you are with relevant posts containing useful content, the higher you could rank (at least in the feed). I have not tested the following statement. I believe that if someone is searching for a subject matter expert, you will rank higher in search results if you also have the right keywords, skills/endorsements, and 500+ connections.
If anyone who reads this has more definitive answers, please share them with me!!