Don't be fooled by email scams!
This time of year, and sometimes all the time, we are so busy that email scams may hit without you even knowing it. This article is dealing with email scams, but phone scams can be just as pervasive. Beware – Microsoft, Apple, the IRS, Social Security will not call you unless there is a pre-arranged time established through letters. Emails on the other hand, just pop up in your mailbox and if you aren't careful, you could become a victim.
Look for the following!
Here is one that recently showed up in my email box. Here are the tips to the email scams: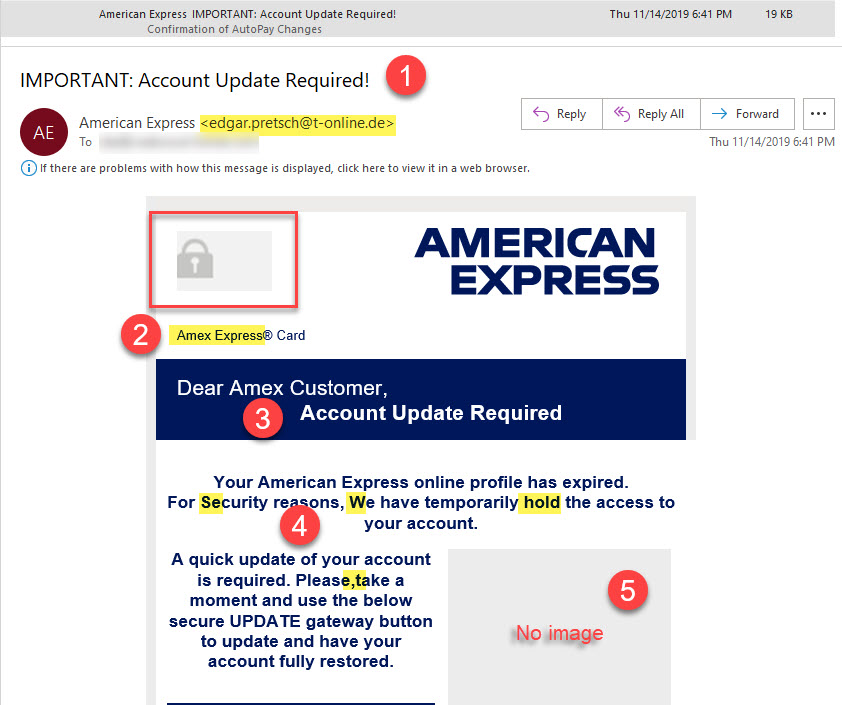 The address may look normal in your lines of emails, but if you open the email and look at the address, it is not from American Express. On a side note, I can't remember ever having an American Express card!!!
Notice the Amex Express reference. American Express doesn't refer to itself as Amex Express. It is spelled out.
Dear Amex Customer, if they are sending me information about updating my account, don't you think they would know the name on my card and address me that way?
Typos abound. A professional company like American Express is going to triple spell check a template before sending out anything.
Lastly, the images are either off or non-existent. A company as strongly branded as American Express would never send out a communication that was not properly branded.
I am sure there are other tip-offs to the email scams. These are just a quick few that I saw to point out and share with you.
Warn your elders!
I remember undoing the results of phone calls my Mom got while I was at work. Do your older family members a service. Discuss with them how to recognize the potential rip-offs and email scams out there.