Don't click on email Messages about LinkedIn until you think it through.
I received the email message that is pictured in this image. I had to think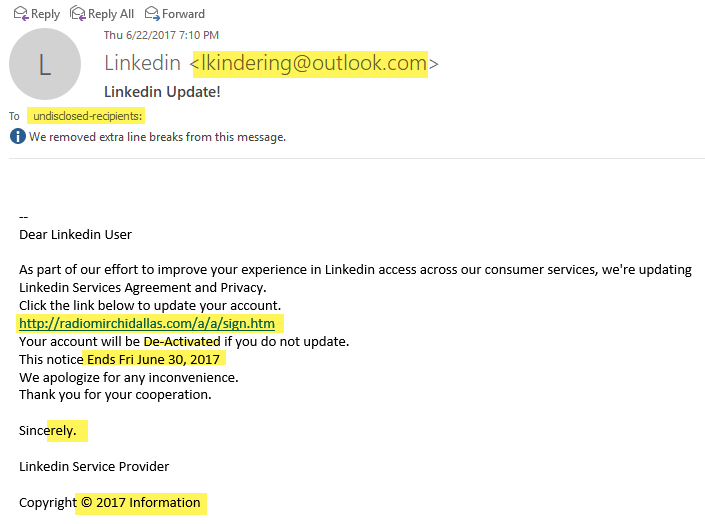 about it for a minute or two and really look at the content, the sender and the email to which it was addressed. This was focused on LinkedIn, but it could happen with any platform or service that you use.
Here are a couple of the clues:
Sender – LinkedIn would not be sending a message to me from an Outlook email address. Even though they are now affiliated with Microsoft, they are branded as LinkedIn.com
Address – this got sent to an email address that is not the primary one on my account and it was sent to undisclosed recipients.
Link to click – has nothing to do with LinkedIn.
De-activated – Linkedin does not deactivate any accounts without going through tons of work to get it done. Trust me on this one, I have tried to help customers delete duplicate accounts and it is TOUGH!
Web link – WHAT!!!???!!! this link makes absolutely no sense, why would I click on it?
Date – the way the grammar and punctuation work on this, it looks as if no one proofed it or does not speak English well.
Sincerely. – this could have been a typo, but if a major corporation is sending out a mass mailing like this, you betcha they are double checking and proofing several times.
Copyright – Just because they put it, doesn't mean it is. PLUS, 2017 Information isn't the name of a corporation – that is what the copyright is for typically.
All in all, to the untrained observer, they might click on this and BAM – virus or trojan horse gets unlocked. Just beware of any type of email that says to renew, verify, whatever before you click and give them what they want.
Call me if you have questions 708-822-2152.
BTW, Microsoft won't call you either – read this one: Be aware of potential hacks