Speaking to the Associated Colleges of Illinois on LinkedIn
On November 3, 2017 I spoke to the Associated Colleges of Illinois about using LinkedIn and other social media to reach out to potential students.
I went to LinkedIn and compiled into one document the items that are associated with creating and using a University page on LinkedIn. If you want to download it click this link – University Pages on LinkedIn.
One of the things I noticed as I was researching all of this is the fact that they differentiate Company pages from University pages for the alumni aspect of the pages.
While many businesses have alumni, not all of them will talk up the positive aspects of that business as they may not have parted company in a good way.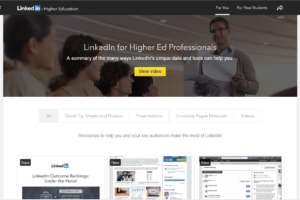 LinkedIn has a whole section of videos and resources for higher education professionals. Take a look at them here. I watched the videos and hope to be able to share more information on the differences to other learning institutions who might have alumni like high schools or prep schools.
I also addressed why social media is important to incorporate in overall marketing plans. (Need me to talk to your group about that?) Here is that handout. Why social media
Last but not least I provided everyone with a copy of my current version of the LinkedIn takeaway from when I teach hands-on LinkedIn workshops. It is here – LinkedIn Take Away. (Need your group to learn more about their personal profiles and what to do with them after they are up to date?)
Whatever I can help you with for your social media needs, I am all ears. Give me a call or send an email so that we can communicate about your social communication desires!! Remember I can help you design, build or remodel your overall social marketing plan.