If you have ever wanted to learn the power of LinkedIn you have two options coming up.
March 5 & 6 is a FREE 1 hour webinar session with Illinois workNet
This Free one hour webinar will be packed with information on how to maximize your personal LinkedIn profile. It is sponsored by Illinois workNet.  Register here.
March 28 is a live hands-on workshop
This hands-on workshop will teach you how to optimize your profile, use the best functions of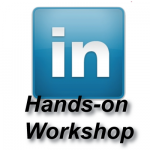 LinkedIn and show you how to develop your company profile. Come armed with a laptop, images (you will receive dimensions after you complete the registration) and you imagination.
Location: QCI Restoration, 1155 Bowes Rd. , Elgin, IL 60123
Time: 8AM-11AM
Continental breakfast will be provided. Check-in begins at 7:30AM.
$30 per person – Register here  Only $25 with the Early Bird discount until March 20.