What is your personal social media policy?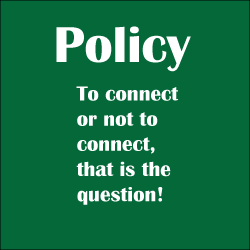 According to Joshua Waldman, who wrote the inspiration article for this post, said that he was a "Facebook prude and a LinkedIn w- – – -." The article focused on following up with LinkedIn invitations, but it made me think about how you personally handle your day to day activities with social media.  
The biggest questions are:
To whom will you connect?

What is your connection criteria?

What platforms are reserved for which connections?
My personal Facebook is reserved for people that I see regularly and don't care that I post about my dogs and golf. The other networks are more professional connections.  Where will you draw the line? Will you be my business connection but not a Facebook friend? I have met people at networking events that will not connect with someone on LinkedIn until they have had a coffee meeting. Who do you invite to connect on LinkedIn?  Read a previous article on invitations.
Your level and degree of connecting is your personal preference. Similarly to a business page, you may want to have a personal social media policy that includes how frequently you will post.  On social media, posting too often can get your posts muted by your connections. The type of information you share might cause someone to turn off your posts OR could keep them from recommending you to a new client contact.  
People in job search mode need to be especially careful of what they post and the photos in which they are tagged. You never know who knows one of your connections and what they can see. This is a good time to check your settings to allow only close friends to see specific items.  
All in all, social media is meant to be social, to engage with your friends and connections. In the grand scheme of things you will ultimately decide how much of an open book you want your life to be.  Remember, if you don't want the world to know something, don't post it on the world wide web.
Share your thoughts!