Facebook Updates Tweek
Who manages a Facebook page? How often would you like to comment as yourself, or perhaps a different page that you admin?  Facebook has given you a simple option to accomplish just that!
Take a look at this video to see how to do it.
In case you don't want to watch the video, here are some directions: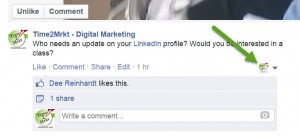 Make the post as your company page however you make that post – schedule it, share someone else's post, use a scheduling tool.
Find the post in your personal feed.
Look in the upper Right corner for the icon and the drop down arrow.
Click the arrow and select which profile you would like to use to post.
Select Like, Comment, Share
Use this option for all pages that you Admin to share a post and perhaps even gain some likes from followers of other pages!
Let me know if you have any additional thoughts or things that you need to see demonstrated.
This might even help you with call to actions and events that you need to share in more than one place. Less duplication of effort and personalize the message to the page upon which you are sharing the post.