Reply Don't Accept Yet – LinkedIn feature is still there!
I don't know about you, but I receive a number of invitations from people that I haven't met. I don't mind expanding my network through LinkedIn connections, but I try to tag my connections so know where the invitations are coming from is very helpful.
Before LinkedIn changed it's invitations features, yet again, there was an option to "Reply don't accept yet" to the person that sent the invitation. I thought this feature was lost forever, the same way that many other useful features, like polls, events, and questions have –  gone the way of the Dodo bird. But I have good news to report!
Reply don't accept yet is still a useful and available LinkedIn Feature!!!  Watch this short video to see where you can find it. Or follow the directions below.
Need a step by step? Here are the directions:
1. Hover over the icon for messages

2. A drop-down box will open with Messages from People to whom you are connected. Click on the word Messages.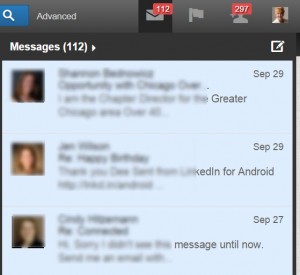 3. You Message Inbox will open. Select Invitations. A list of your invitations will show.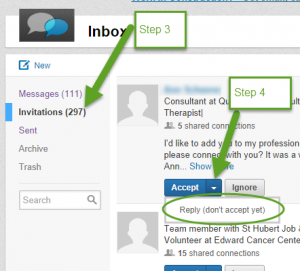 4. Click the down arrow next to "Accept" and the option for "Reply Don't Accept yet" shows. Click that selection and send the potential connection a message. I use the following:
Please refresh my memory of how we may have met. I like to tag my connections for future reference.
That is the one way I can control how I organize my connections. It is really useful for finding people at a later time.
Happy Linking!