In LinkedIn, one of the best features is you can communicate with your network.  How can you accomplish that besides posting a status update or creating a discussion in a group?  That is the topic of this post:
LinkedIn – Send direct messages
You have decided to point out a particular feature of your company, or perhaps a new showcase page for your company, maybe a featured post you found on LinkedIn. Other than posting it to a group discussion or taking the chance that someone will see your status update, you may want to send direct messages to specific people.  Now if you have taken the time to Tag your connections, you can send it to a tagged group of up to 50 people at one time.  If you haven't tagged your connections (read more about doing that here), or you just want a few people from different within your connections you can do that as well. Follow these steps:
1.  Select the message icon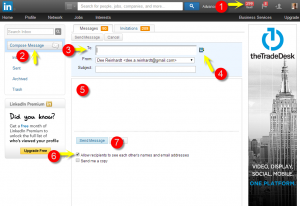 2.  Select Compose message
3. Start Typing Names
4. Use your address book for additional names (additional image below)  You are limited to 50 addresses in one email.
5. Compose your message – use a generic Salutation so that you can include multiple people without having to send each one individually.  If you are sending the message to more than 50 people copy the body of the message for the next email.
6. Who will see – At the bottom of the message window is a box to select or deselect that determines whether the other message recipients will see each others name.  If you want the message to appear as if it was a "singular" message, you will want to uncheck the box.  If you are sending the message to a group of people to whom you would normally send a message, you leave it checked.
7. Send your message. Repeat the steps until you have sent your message to everyone to whom you wish to send the message.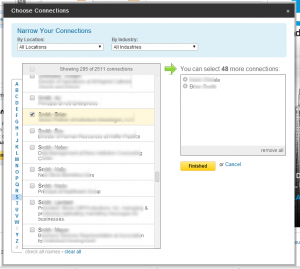 Address book lists your connections alphabetically.  Move through the alphabet as you add people to your "To" list. When you check the box next to their name, it automatically adds them to your list and tells you how many you have left in your "50".