I am sure by now that you have seen the "Endorsements" on your LinkedIn profile.  This is a relatively new feature from LinkedIn that allows you to perform a quick click and let your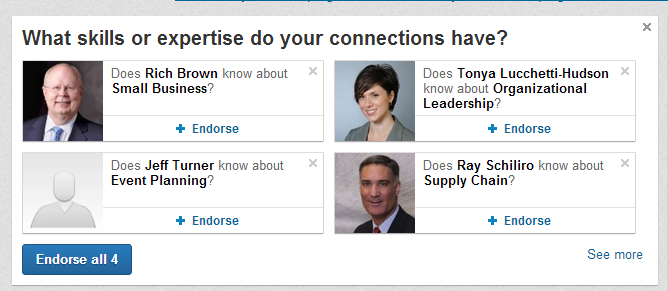 connections and the other person's connections see that you feel your connection exhibits those skills.
The YouTube how-to video below explains:
Endorsement Monday's – similar to Twitter's #FollowFriday or #FF, take a few moments every Monday to endorse some of your connections.
Endorse someone from your home page – Something similiar to the image above will appear on your home page in LinkedIn so it becomes quite simple perform the "endorsement" action.
Endorsing someone from their profile – you can also go directly to a connections profile, find the "Skills and Expertise", and then choose to endorse one or a number of skills they have listed.
Managing Endorsements – not everyone wants to show the endorsements for the skills they have listed OR they prefer not to have a particular person listed as having endorsed them.  I show you how to manage those endorsements.
Thanks for reading, and if you would like to endorse me for any skills, here is the link – Dee Reinhardt
Share this post with your connections to help them understand the Endorsement process.