Being able to constantly update a LinkedIn profile is one of the best things about the on-line tool.  A small tweak here and there, could ultimately make your profile show up in a search result that can land you a new job or a huge contract.
Job seekers are advised to craft their resume to the description for a specific job to which they are applying. But if you are applying to a number of jobs should you be changing your LinkedIn profile for each of them?
Keywords is the biggest tool that you can use when creating or updating your on-line resume,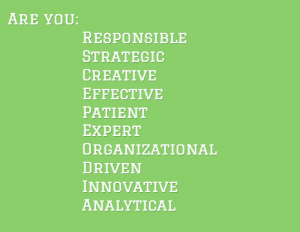 or your LinkedIn profile.  Make use of the Skills and Expertise component, place keywords strategically in your summary and descriptions of your job, and make sure not to overuse buzzwords.  This article from About.com gives you the Top 10 Words Not to Include in Your LinkedIn Profile. Make use of a thesaurus and be creative in your descriptions.
Let's look at one of the words in the list – Expert. I once heard in a training session on social media, that if someone says they are a social media expert to turn and run away fast.  Is that true in all industries?  Should you ever call yourself an expert, or should you leave that to people who are introducing you, or writing you a recommendation or referral?
In essence, someone reading your profile wants to know how you can solve their problem. The best way to do that is to give them some examples that they might be able to translate into their own situation.