Have you seen the latest LinkedIn Groups Updates
Today in LinkedIn, I clicked on Groups and noticed there has been a significant LinkedIn Groups Update.
See the image below, but to summarize: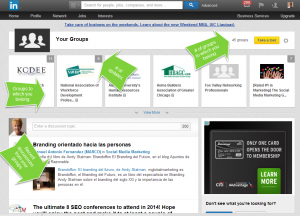 The groups to which you belong are listed across the top
Click "See More" to view all of your groups
Check the number of groups to which you belong – remember you can join up to 50 groups
Follow the conversations from your groups in a stream below the list.
Now one of the best things that this change has brought about is that if you want to start a discussion in more than one of your groups you don't have to go from group to group to start the discussion.  For example, this is especially useful if you are sharing a job posting.  Click here to read about how to Share a Post that you see in your updates stream or from company updates.  What is great about the new feature is: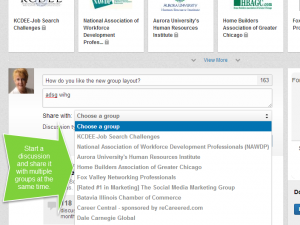 you type in your headline,
type in your message,
pick whether it is "General", "Promotion", or "Job" and then
Select the "Choose a group" to you see the drop-down list of your groups!
This is a great time saver if you don't have an update to share from a company. It is a great way to gather information from multiple groups for research or to obtain an answer to a questions for which you just cannot find the answer. Share a workshop or other event to appropriate groups.
As a reminder, some groups moderate their discussions, so your post may not appear automatically. Be careful not to appear spammy so that you are cut out of the loop!
Happy posting!