Networking can help you find a job or find a business contact.  This article 4 Steps to Getting the Most Out of Networking addresses a couple of key points.  Here is my perspective:
Attending networking events for me serves 2 purposes: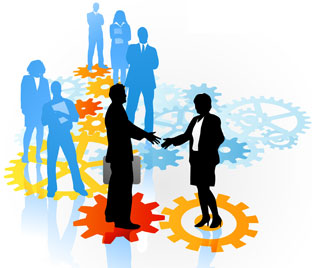 To refresh the memory of the people that I know that I am "around". When they see my face, they remember – hopefully – what I do and that by seeing me, they may need to reach out to me for the service I provide or the product that I sell.
To meet new contacts to find out how I can help them or how they might in turn be able to assist me.
Do you spend time talking and chatting with the people that you know? Smaller groups that you attend regularly can present a challenge. You have gotten to know many of the regular attendees and some individuals tend to gravitate toward the people they know.     This scenario fulfills the first of my purposes.  It lets me check in with someone or perhaps have a brief conversation face-to-face that I had been hoping to accomplish.  It might even allow you to close a deal!
Alternatively, do you reach out to the new face in the crowd?  Many groups, especially chambers of commerce, have ambassadors who  help the new person meet people within the group.  People who tend toward introversion may have difficulty in groups without ambassadors.  Personally, I like to go up to the person standing by themselves and introduce myself.  Those of you who know me, know I am so shy (wink wink).
Are you like the bee and float from flower to flower, or do you spend time trying to get to know the new person you just met?
Once you meet that new person, what do you do? Not everyone is going to be your ideal prospect, but it doesn't mean that they aren't connected with someone who is.  When I teach LinkedIn, my mantra is – it's not about who you know, it's about who they know.
We all know we need to network whether it is in-person or on-line.  What is your favorite approach?  What is your favorite follow-up process?