No matter who you are, if you have a career path you are following, you need one thing in social media – a LinkedIn profile.
When was the last time you searched Google, Bing or Yahoo for your name? If you do search your name, your LinkedIn profile will normally jump to the first spot in search results unless you have a website that is your name. Now having said that, if your profile is just there, not complete, not being used, it won't help you much. BUT, if you are putting in the effort to show-up on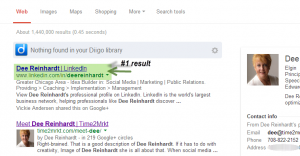 LinkedIn, your profile can do wonders for you. I just searched mine and my LinkedIn profile showed up #1 on all three major search engines.
LinkedIn Company page – one of the best points about a company page on LinkedIn is that it validates you as a business.  You must have a name@yourwebsite dot com email address to create a company page. You link your profile to your company profile, and voila, people see your company information in your personal profile AND they see your personal profile image linked to your company page. If you are a B2B business, I would suggest that you may want to enhance your company presence to the Nth degree on LinkedIn. Use all of the images and product spots available to you.
After searching Time2Mrkt on the three search engines, my company profile fell in 3rd behind website pages and Yelp, Twitter or YouTube.  (Remember the bond YouTube and Google have now.)
There are so many ways to take advantage of social media to drive your organic search results, it is a shame to waste any opportunities. If I can help you drive your results or find out more about Time2Mrkt services visit: https://time2mrkt.com/productsandservices/