In our first article on the Top 5 LinkedIn Business Tips, we discussed your Description. Other articles in the series will cover: Imagery, Recommendations,  and Activity
Top 5 LinkedIn Business Tips – Products
This article is addressing one of the most important aspects of your LinkedIn Company Profile and that is the Products and Services.
LinkedIn allows you up to include up to 20 products or services in your company profile.  Each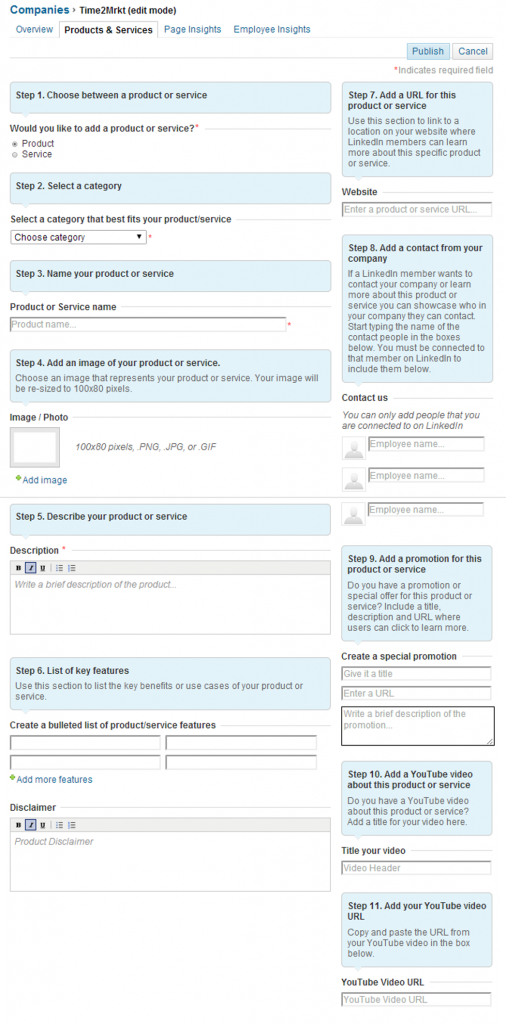 of these products/services can include keywords that will get you found in the search results. Let's review the components of a product:
Product or Service – this just tells LinkedIn whether you are selling a product or providing a service.
Category – a list of 30 categories from which to choose.  Most of mine fall under either Consulting or Business Services
Name of item – Try to use a keyword here.
Photo – when I work with clients, I brand the images of all products to reflect the same appearance.
Description – You have 2000 characters or about 375 words depending upon size.  Use keywords.
Key features – using keywords, share features/benefits that will appear as bullets
URL – do you have a landing page for this product? Don't make the person search your website.
Contact – you can add 3 LinkedIn company contacts. Do you have a regional sales manager or local person that they could contact.  Does that person's profile provide proper contact information?
Promotion – is there a promotion on your site? Maybe a LinkedIn discount landing page.
Video – YouTube gets 4 billion searches per day, but a consumer may not be searching for your product on YouTube.
Video URL – share the video link from YouTube (Vimeo may work as well) and a video link will show in the product item.
Disclaimer – Include any restrictions that you need to share with a potential consumer.
What a product on LinkedIn can do is drive consumers into your website or to your


salespeople. Additionally, you can direct connections or LinkedIn users to write a recommendation for a specific product.  This helps build the credibility for your product instead of just for you or your employees.
Let me know if I can help you boost your product awareness on LinkedIn.
Need more information on your personal profile? Read the LinkedIn – Top 5 Tips – series on the following: Photos, Complete, Connections, Invitations, Participate