In this series of articles on the Top 5 LinkedIn Business Page Tips, we have already covered Description, and Products & Services.  This article covers Imagery. The final two will cover the aspects of your business profile about Recommendations, and Activity
Top 5 LinkedIn Business Page Tips – Imagery
A client of mine who was starting a new career at an age when most of us hope to be retired wanted some tips and guidance on which social platforms to use. We stopped by Twitter, Facebook, and LinkedIn.  On each platform, the client said – "Oh, that's your website!" I said no, that is Twitter or Facebook or LinkedIn, whichever we were visiting at the moment.  When we finally landed on my website, the client said, "I get it, they all look alike!"
Branding your company/products visually is very important. I believe that is why sites like Pinterest and Instagram are growing by leaps and bounds.  Personally, I tend to look at an image first before I read a headline or caption. If the image grabs my attention, I may investigate the item further.
That is why we are addressing as one of the Top 5 LinkedIn Business Page Tips – Imagery.
The opportunities you have are worth spending the time (or money) to develop.
Company Logo – Your company logo has an important place.  It appears on your company page and on the personal profile of all of your employees.
Header – Each company has a header image that can help brand your company.  The header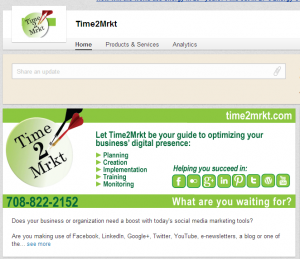 image should be similar to the images on all of your web based platforms.  Additionally, LinkedIn offers you the opportunity to create up to 10 "Showcase" pages to highlight specific product lines. (Read more about showcase pages here).
Jobs – If you company uses LinkedIn to promote openings at your company on the Jobs pages, you have another image that can express your brand AND company culture.
Products/Services – In our last article we discussed the details of setting up your products and services, but the important part to remember here is the 3 banner images that can link directly to your website, the images that represent each of your products, and the videos that you can link from YouTube that illustrate your products in moments.
Use the power of LinkedIn's imagery through the visual prompts to promote your brand on the most powerful professional social network.
Need more information on your personal profile? Read the LinkedIn – top 5 Tips – series on the following: Photos, Complete, Connections, Invitations, Participate