B2B vs B2C – Google
In the continuing discussion about the better platforms for B2B vs B2C – Google+ is next up.  Google+ has seen more than a 58% increase in users over the past 9 months. An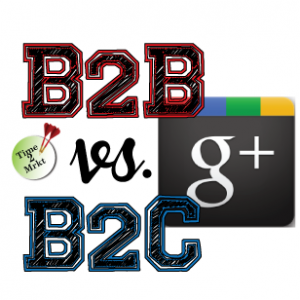 article from October indicates there are over 300 million users with 1/3 of them in active mode. One of the things about creating a Gmail account is that you automatically get a G+ account. When you have a Gmail account, you connect with all of the other Google services, +, YouTube, Hangouts, Drive, Picasa, and on, and on. Google was a bit late to the game creating a "posting" platform, but with the power of a search engine behind it, Google+ gives you a huge opportunity if you choose to optimize a platform here.
B2B
Create your company profile and verify your "official" page. Share photos with links back to your website. Recommend links to your blog posts. Use analytics to look at traffic and leads. Use the Hangout function to hold long distance training or brainstorm with colleagues in out of town offices or clients.
B2C
One of the benefits of Google+ and a brick and mortar location is the map functionality. While G+ is not quite as robust to the consumer as Facebook, the ability to post photos, have images related to your business and reviews about your business may help drive business through your doors. If you have a G+ local business page, you get much more real estate on a search results page. Verify your address to have that show up.
No matter which business type you have, you may want to consider establishing a G+ account and putting up a few posts. Engage with others as you can by sharing posts and +1ing posts from others.
Why | Blogs | LinkedIn | Facebook | Twitter | Video
Google | Image | Pinterest | Location Sites | E-news