Do the Numbers Add Up?
Recently I was asked by a colleague to help her with a debate she was having with a coworker about posting frequency.  Here is the advice I offered: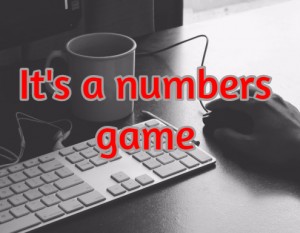 How engaged is your audience? The frequency that you post depends upon the engagement level that you see. It also depends upon the type of post you are making. If you are constantly pushing promotional items, the audience will disengage. For example, if you are a B2C business and you are sharing pictures of people you will probably build your engagement level. Videos these days are the rage on Facebook, especially if they are short and make someone laugh. Use it to your advantage.
My rule of thumb is 70-20-10.
70% content in your industry from other sources
20% content from your industry that you create
10% promotional information
The exception to that rule is if there is an event coming up, that 10% may rise to about 25% especially closer to the deadline for registration or the event itself.
Here is the tricky part – the frequency. Because of the algorithms, the more often you post, especially on Facebook, the higher the likelihood of your audience seeing it. The algorithms have dropped to about 3% of the posts you put out actually make it to a followers news feed. That number, at one time, used to be 16% of your followers would see your posts. If you want higher engagement with fewer posts, you have to make sure that all of your posts hit! This won't happen. Try to arrange some "ringers" who will like and share your posts. This could drive the engagement rate and up the % of your followers that will see the posts.
Here is what I suggest to the "average" business user:
LinkedIn – 3-5 times per business week
Google+ – 3-5 times per business week
Twitter – as often as you can, link from Facebook, Pinterest, and feeds from other sources
Facebook – 1-3 times throughout the day for your business week. If you are a restaurant, that might mean Tuesday -Sunday, for a CPA firm Monday- Friday
If you are following the 70/20/10 rule, you should build the engagement level as well as find out what kinds of posts are drawing the engagement.
If you use a tool like Buffer or Hootsuite, you can use the auto schedule features they offer to pick the best time for follower interaction.  But remember that as frequently as you post, you need to have someone checking to see if people are engaging with you. If they comment, you need to be able to respond, SOOOOO don't post more frequently than you can manage to check back and follow-up if necessary.
It really is just a numbers game.
This 2014 article from
FastCompany
sums up more details that you can use as reference.